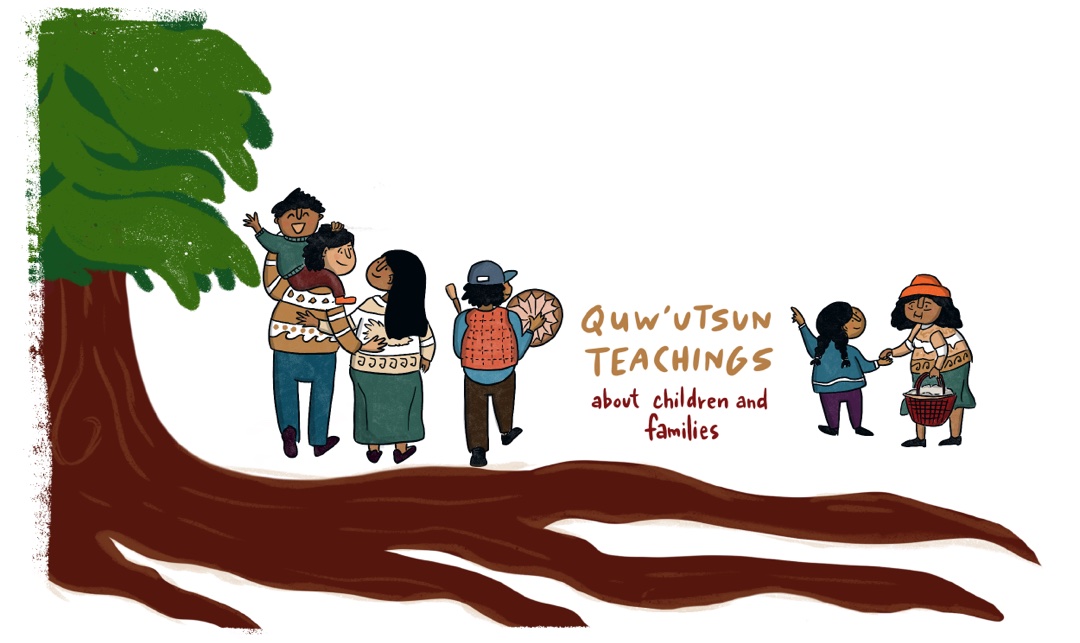 Grounded in our teachings
"The challenge with the current law and care system is that it does not allow us to practice our traditional ways of dealing with child welfare issues. Traditionally, it was a family first approach that protected the child by surrounding the child and family. Today, there are more attempts to defer to the family intervention approach first. But (current) legislation does not always align with the traditional way of practising child welfare."
Cowichan Tribes has always believed that self-governance is an inherent right of our people.
Our oral history reflects the fact that our children have always been at the centre of our Cowichan community. Caring for our children is an essential part of who we are, and we believe that families must take care of families.
Our people will guide this important work. We are committed to listening to their voices, learn about their hopes and lived experiences, respect their traditional teachings, and reflect their concerns in order to create a law that will help young people reach their full potential and heal families during times of crisis.
In 2012, the initial Cowichan Tribes Nation-Based Child and Family Wellness Legislation Project (led by Lalum'utul' Smun'een) hosted extensive community consultation sessions and meetings to keep everyone appraised of the work and to seek input. These sessions included presentations to Cowichan Tribes, Chief & Council and Cowichan Tribes department staff, community focus groups, family visits, Elders' luncheons, community BBQs, and community forums.  They also presented to students, staff and off-reserve members at Vancouver Island University, Hiiye' yu Lelum Friendship Centre and M'akola Housing.
The community identified four main themes – Culture, Family, Teachings and Governance – and shared traditional teachings to guide this important work.
#1 | Family
"Everyone in the family has a role and responsibility. All children have a purpose. Grandparents watched grandchildren and groomed them based on their strengths. Aunties, uncles…everyone has a role."
A core belief of the Cowichan Tribes community is that the "Family is the Heart of Life." Families take care of family, and families are built on the strength of every person in the family. Everyone has a role and responsibility. We are committed to creating a law that aligns with the needs and values of the Cowichan community and reflects this core belief.
#2 | Culture
"Our culture makes us strong. It identifies who we are."
Cowichan children must know who they are and where they come from. Cowichan law will recognize the importance of involving Elders, as well as a child's entire family (not just parents) in decisions affecting a child's care and well-being. The law will also emphasize the importance of healing entire families as well as the child.
#3 | Teachings
"Teachings are a life-long, everyday practice. Teachings are lost in the English translation."
Cowichan people believe that the current laws do not reflect their traditional teachings and beliefs. Our new child and family law must reflect our traditional teachings.
#4 | Governance
"Elders were our social workers and decision-makers regarding our families. Hereditary chiefs would come together to make decision about community."
Elders play a critical role in the Cowichan community. They possess extensive knowledge, wisdom and lived experience and we should seek their counsel when making decisions regarding the well-being of children and their families.
The project team is working with community representatives, Elders, legal experts, and service providers who sit on sub-committees to guide the development of the new law and, later, the service delivery model.
We look forward to consulting with the Cowichan community as we move forward with developing a law that reflects our Cowichan values, realities and needs.
The Quw'utsun Snuw'uy'ulh (Teachings)
Tl'i' to' mukw' mustimuhw
Each person is important
Hwial'asmut ch tun' s-ye'lh
Take care of your health
'Iyusstuhw tun'a kweyul
Enjoy today
Hwial'asmut tu tumuhw
Take care of the earth
Hiiye'yutul tst 'u to' mukw' stem 'i'u tun'a tumuhw
Everything in nature is part of our family – we are all relatives
Live in harmony with nature
Do the best you can, be the best you can be
Be honest and truthful in all you do and say
Learn from one another Respect the rights of one another
Yath ch 'o' lhq'il'
Be positive
Mukw' tu shhw'a'luqw'a' 'o' tth'ele's tu shhwuli
The family is the heart of life
Ts'iiyulh ch 'u tuni' s-aamustham-mut
Give thanks for what you have been given
Stsielhstuhw tu S-ul'hween
Honour the Elders
Thuluqtul ch 'u kwthun' kwunmun
Share what you have
Respect your leaders and their decisions
Respect your neighbours
Take responsibility for your actions
All things are connected
Help one another and work together for the good of all
Some of the Quw'utsun Snuw'uy'ulh (Teachings) are still in the process of being translated into Hul'q'umi'num.